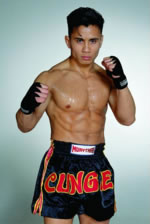 Cung Lê is a Vietnamese-American kickboxer. He was born in 1973 in South Vietnam.

He made his highly anticipated mixed martial arts debut at SVE: Shamrock vs. Gracie on March 10th, 2006, at the HP Pavilion, knocking out kickboxing rival Mike Altman in 3:51 of the first round.

Cung Le has three bronze medals in amateur San Shou kickboxing world competition, and has been a three-time captain of United States teams that competed in the Wushu World Championships.


Xem tiếp...